L I V E 1:1 W O R K S H O P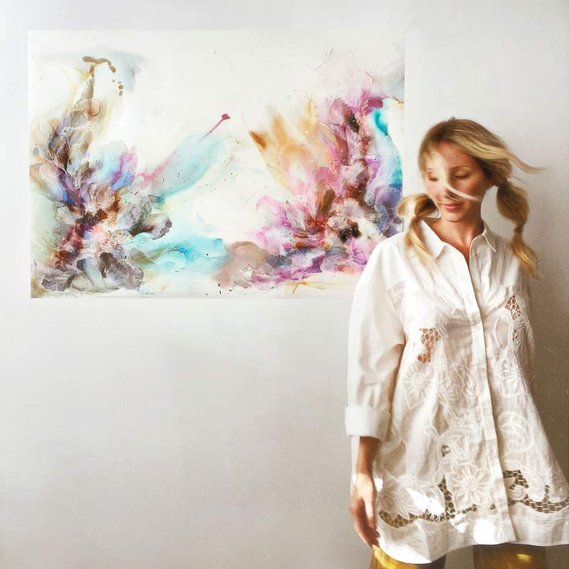 E X P E R I E N C E
THE FLOWETRY WAY
Weaving together her discoveries as a visual artist and philosophies as an Expressive Arts Therapist, Hilary Paige reveals a different side to the medium of alcohol ink by threading together mixed media & empowering processes to ignite your art intuition. Learn her beautiful Breaking Light style!
Imagine Hilary as your creative mentor; inviting you into her process and sharing the prism of tools she's honed over her lifetime. After her demonstration, her mission is guide as you try the techniques yourself. Helping you unfold, soften and express with full feeling!
You'll dive into special techniques which will support you - not just in the moment - but in your lifelong practice. Come learn how to channel a feeling of inspiration energy into your art that is purely undeniable.
I empower rising artists in their creative magic
And I'm ready to show YOU how to intuitively create soulful abstract art with ink & mixed media - Flowetry style!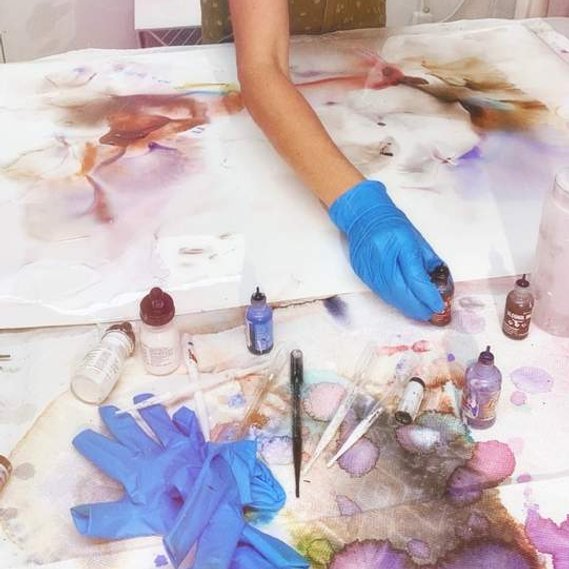 T H E D E T A I L S
INVESTMENT IS

$200

CAD



WHAT'S INCLUDED
1.5 hour LIVE 1:1 training
Hilary's expert guidance, insight & support
A prism of new tools, techniques and learnings
6 "Extra Love" resources (detailed below) for lifetime access, including: two material lists, an hour long workspace recording describing materials and setting up your space, a guided visualization, a playlist, 3 journal prompts, and my favourite dialoguing exercise.
T H E V A L U E
My Flowetry method is one of a kind. There is no other artist teaching these specific painterly techniques with ink and mixed media as I'm completely self taught with this medium. And I pioneered the ink/acrylic/mica movement starting in 2020.
The medicine of Flowetry that I offer is pure and distilled from my higher self. It's my life's work walking the artist path. As I share it all with you I hold nothing back. This experience is not your average workshop. It's sets you off on a new journey bringing deep exploration, ritual and intention to your creativity which in turn impacts all aspects of your life.
Flowetry was created through me. Gifted to me - to share with you. An archetypal, beautifully wild magic. It changed my life and I now I see it setting fire to the hearts of already +100 art lovers and free spirits.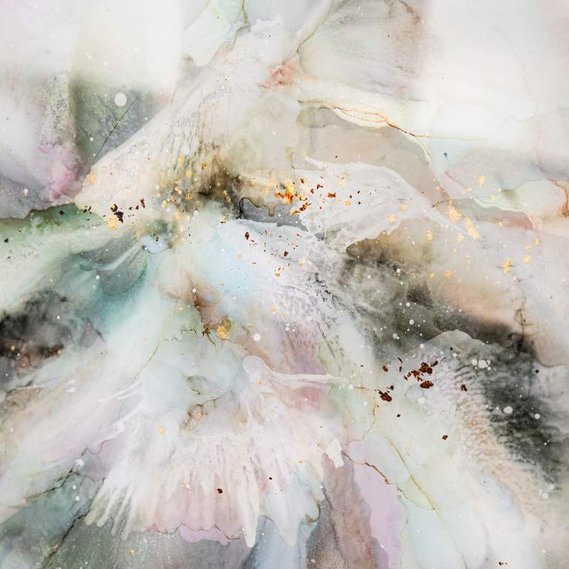 I N P R E P A R A T I O N
ready - set - flow
Gather essential materials
ZOOM + a reliable connection
Workflow setup (as per recording) + workspace visible
Show up with an open mind + willing heart
Something for jotting down important notes
Any burning questions (can be business related) for our closing
FREQUENTLY ASKED
Q: Is it one-to-one?
A: Yes, it is 90 minutes of my undivided one-to-one guidance.
Q: Is it downloadable and self-paced?
A: No, this is not a downloadable course. It's a LIVE workshop over ZOOM. We have an opening, my demonstration, your process, and then a closing with questions.
Q: Can I see the material list in advance?
A: I send the material list upon booking, along with the other resources. You are able to book a minimum of 7 days in advance so you can gather the materials and prepare with the resources. If you don't have your materials by the date you booked we can reschedule - just let me know in advance.
Q: Do you offer group workshops that are cheaper?
A: No, I don't offer group workshops that are cheaper. I have a standard rate for all my workshops regardless of size.
Q: Will there be a recording for me to replay?
A: No, I don't record the sessions. I encourage you to show up with full presence. I communicate clearly (I'm an expert at explaining my process in the way you learn best) and show lots of repetition. HOT TIP, though! It has been helpful for previous students to take notes throughout my demonstration. So have something ready to jot down key ideas.
Virtual Flowetry Workshop
is protected by copyright and remains the intellectual property of Hilary Paige. While you have permission to create and sell art with the application of information and learnings from the Flowetry Workshop, you are not authorized to teach the content or material herein. Attempts to replicate and offer the content of the Flowetry workshop in an instructional or didactic way requires written authorization by Hilary Paige.
Agreement
I aim to touch as many of the tools, techniques and learnings listed above as permitted within the 1.5 hour one-to-one time. My emphasis for every workshop is in tailoring the experience to each participant and their unique needs in that moment. As a registered Expressive Arts Therapist, I move with sensitivity to what challenges, discomfort and big emotions might arise. Energy and emotion is the foundation of Flowetry. I gently ask that an agreement be made to honour the pacing of the workshop as organic and tailored to your individual experience, and that – within the confines of time and space – not every tool, technique and learning listed above can realistically be touched on. This agreement is needed to be signed prior to our session.
Love Letters
DROP YOUR CONTACT TO STAY CONNECTED WITH ALL THINGS FLOWETRY